What's on in and around Windermere in November
A monthly roundup of the highlights for visitors and locals who like art and culture, Lakeland scenery, walking, good food and wine.
1: Throughout November and until Jan 6, an exhibition of ceramics by Grayson Perry at Blackwell, the Arts and Crafts house near Windermere.
This is a fascinating opportunity to see the work of the Royal Academician and Turner prize winner who first established his eclectic career in the field of ceramics, taking classical sculptural forms and portraying universally human subjects on their surface. This Spotlight display is linked to another Perry exhibition, at Abbot Hall Art Gallery in Kendal, which opens on Nov 9: Julie Cope's Grand Tour: The Story of a Life
Blackwell is one of our local gems, a Grade I listed building overlooking the lake at Windermere, which is a masterpiece of artistic design. Architect Mackay Hugh Baillie Scott created it as a holiday home for Manchester brewer Sir Edward Holt, Lady Holt and their five children in 1901. You can visit the house, see various occasional and permanent exhibitions, or just sit and look at the view from the window.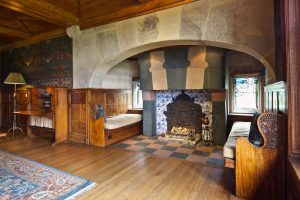 There are original decorative features by leading Arts & Crafts designers, including a rare hessian wall-hanging in the dining room, leaf-shaped door handles, ornate window catches, spectacular plasterwork, stained glass and carved wooden panelling.
https://www.blackwell.org.uk/visit/
2. November 10 and 11, at Brantwood, Coniston, the Winter Craft Fair sees the rooms of Ruskin's historic house full of crafts people selling and demonstrating the best skills from Cumbria and the North West.
This annual event has developed a name for quality crafts, with more than 40 stalls including jewellery, textiles, pottery, woodwork, original artworks, prints and cards, baskets, bowls, pots, felted birds and animals as well as homemade Christmas puddings, cakes and preserves.
Craft demonstrations include swill-basket making, spinning, and raku-fired pottery. There will be plenty of ideas for unusual Christmas presents and handmade objects for the home. The Terrace Coffee House and Restaurant will be serving seasonal fair and mulled wine.
Doors open at 10.30 am on 10th and 11th November, closing at 5 pm on the Saturday and at 4 pm on the Sunday. Entry is £2.50 per adult, free for children, and a Park & Ride mini-bus service will be running between Brantwood and Machell's Coppice car park (just south of Brantwood) throughout the weekend, providing ample car parking throughout the event.
http://www.brantwood.org.uk/whats-on/
3: Mountain of Destiny, an exhibition of previously unseen photographs, runs at the Heaton Cooper archive gallery in Grasmere from Nov 16 until the end of the year. The photos are from the private collection of the British transport officer on a German expedition to the world's third highest mountain, Kanchenjunga, in 1929.
This was the first German Himalayan mountaineering expedition after the first world war, with explicitly nationalistic aims, motivated by a desire to rebuild a faith in German manhood and to finally leave behind the defeat and humiliation.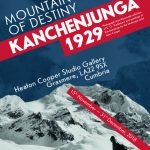 Various accounts of the Kanchenjunga expeditions in 1929 and 1931 are shot through with the language of struggle and military metaphors, the celebration of mountaineering comradeship harking back to the camaraderie of the trenches. Underpinning it all was a sense of German national destiny expressed in the language of racial theory.
But as this exhibition reveals, photos taken by expedition leader Paul Bauer and his colleagues Julius Brenner and Dr Eugen Allwein all exhibit a strong ethnographic sensibility, sensitive to the ethnic diversity of Sikkim and the region. There are some touching images particularly of Sherpa and Bhotia high-altitude workers.
The Heaton Cooper studio is the Lake District centre for landscape art and carries permanent exhibitions of the work of three members of this artist family, Alfred Heaton Cooper, William Heaton Cooper, and Julian Cooper. All exhibitions are free, and there's an on-site café, Mathilde's, with Scandinavian themed food, plus books and gifts for sale.
https://www.heatoncooper.co.uk/category/news/
4: Our very own Old Laundry Theatre in Bowness is showing a pair of plays by the masterful Alan Ayckbourn, presented by the Stephen Joseph Theatre, visiting from Scarborough. Better off Dead and Joking Apart run alternately till November 10, with some matinees as well as evening performances. These are followed by two single productions, Oscar Wilde's The Picture of Dorian Grey, (Nov 15), and The Time Machine, a radical new interpretation of the HG Wells classic (Nov 16).
It's possible to enjoy a relaxed pre-theatre dining experience in the Old Laundry Bistro before settling down to take your seats in the theatre. The Bistro is in the restored Laundrama building just across the road from the theatre and next to the Rayrigg Road car park). A Dine Out ticket includes a two-course meal with a table automatically reserved for your party at 6pm.
https://www.oldlaundrytheatre.co.uk/events/category/all/theatre
5. Go for a walk in the forest and who knows what you might see, especially in Grizedale Forest. This wonderful, extensive network of walking and cycling trials offers a range of options for visitors of all abilities and incredible views of the surrounding Lake District fells, and there's a range of sculptures along the way.

One special exhibition at the moment is called RUUP, which is derived from the Estonian word Ruupor which translates as "megaphone". The sculptures were originally designed by Estonian artist Birgit Õigus during a residency in a forest in Estonia. Õigus decided to create a structure which would encourage people to stop and listen to the sounds of the forest, to act as shelters for walkers and also become mini stages for live performances. Here in the Lakes it marks the 50th anniversary of creativity in Grizedale Forest. RUUP is located on the Carron Crag Trail.
http://www.grizedalesculpture.org/visit/
6: We know that Windermere's the best town in England, and now we have confirmation that we have the best pub here, too. It's the Crafty Baa, in Victoria Street, which won the "best pub in England" title at the recent AA Awards. It's actually a restaurant and deli as well as a baa, sorry, bar, and is open every day from 11am till 11pm. Child and dog friendly, the Baa specialises in charcuterie and cheese, including Baked Camembert, and their grilled sandwiches are already the stuff of legend. There's live music every Sunday night. For more information: https://thecraftybaa.business.site/