We're really excited after our preview visit to the newest museum in the Lake District, and one that we're sure our visitors will love.
The Windermere Jetty Museum of Boats, Steam and Stories in on the lake shore, actually connecting into the water, off Rayrigg Road. It's been built on the site of the former steamboat museum, where our guests used to love going on board Esperance, which inspired "Captain Flint's Houseboat" in Swallows and Amazons.
This is a much more substantial heritage attraction which has cost £20million to build and will be run by Lakeland Arts.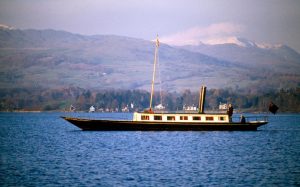 Originally brought together by George Pattinson, a private collector of steam launches who founded Windermere Steamboat Museum in 1977, the collection now comprises 40 vessels that tell the story of boating on Windermere from 1780 to the present day.
Windermere Jetty, a cluster of seven buildings, is the first contemporary construction on the shores of the lake for more than 50 years.
There's a central boathouse and new jetties which provide access for visitors to sail on Osprey (1902), one of the museum's fully-restored Edwardian steam launches, and where Windermere Lake Cruises can dock and drop off passengers at the museum.
There's also an open access conservation workshop where visitors can watch a team of skilled boat builders at work restoring craft that would otherwise be lost to history.
There's a cafe, of course, and a car park, but the museum would be happy if you chose to get their under your own steam. And as it's only just over a mile from our guest house, you can have a lovely walk down there, easily.
The museum is open every day from 10am.
https://windermerejetty.org/collection/