Lakes and mountains galore, wild life in the Lake District has some wonderful nature reserves and wildlife sites where you can see birds, animals and plants. All of these are within easy reach of our luxury bed and breakfast here in Windermere.
These are our top five.
Leighton Moss is the site of the largest reed bed in north-west England and is home to a wide range of spectacular wildlife including otters, bearded tits, marsh harriers, egrets and red deer. You can visit the hides, explore the trails and enjoy spectacular views from the Sky Tower.
Leighton Moss' diverse habitats include reeds, woodland and limestone grassland. It also incorporates extensive areas of mudflats, coastal marsh and saltwater lagoons along the shores of nearby Morecambe Bay.
Mixed woodland has nesting marsh tits, nuthatches, bullfinches and tawny owls as well as roving long-tailed tits, treecreepers and woodpeckers.
Wildlife ponds support dragonflies and damselflies, as well as newts, toads, frogs and fish such as pike, eel and perch.
Coastal saltmarsh lagoons attract large numbers of wading birds including avocet, oystercatcher, curlew, redshank and dunlin.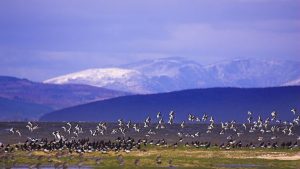 RSPB Leighton Moss, Storrs Ln, Silverdale, Carnforth LA5 0SW
Grid ref: SD478750
South Walney nature reserve, a shingle island which is home to the only grey seal colony in Cumbria, as well as many birds. The grey seals can be seen at high tide year round at their only haul-out location in the county. There are breeding eider duck, great black-backed gull, oystercatcher, ringed plover, shelduck and many more.
In Spring – the time to see courting eider ducks and catch the returning spring migrants- wheatear, willow warbler and sandwich terns. Thrift and sea campion come into flower.
In summer– see nesting gulls, eiders, oystercatchers and ringed plovers. Arctic, little and sandwich terns are summer visitors; these agile seabirds can be seen fishing from Sea Hide. Burnet moths and grayling butterflies are on the wing and viper's bugloss, yellow horned poppy and sea lavender are in flower.
In Autumn – catch the flocks of migratory curlew, spotted redshank, redstart and pink-footed geese.
In winter– Huge numbers of waders and wildfowl feed and roost around the nature reserve.
Throughout the year look out for barn owls, short-eared owls and peregrines and grey seals at high tide.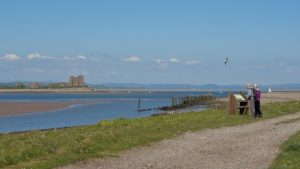 Baby seals are incredibly vulnerable to disturbance, which would cause the mother to abandon it and the pup to starve. There is strictly no access to the area of the nature reserve where the seals are located.
South Walney nature reserve is open daily 10am to 5pm (4pm in winter).
Best time to visit
March to August
Morecambe Bay. One of the most important places for birds in Europe and designated a Special Protection Area, Morecambe Bay covers a vast area; the Lake District and Arnside and Silverdale Area of Outstanding Natural Beauty tumble down into its mudflats. This draws in many thousands of birds a year.
At high tide, wading birds need to rest and conserve energy, so winter is a critical time for them. They need to put on enough weight to survive the winter and migrate back to their breeding grounds in spring.
Strolling along Morecambe promenade at any time, you can watch wonderful waders, and discover atmospheric heritage sites, hidden beaches and magical mosses at Heysham.
A hidden oasis at Heysham Nature Reserve is where butterflies and dragonflies abound. Look out for noisy flocks of migrating pink footed geese at Heysham Head and greenshank, whimbrels and ringed plover in spring. In summer Heysham Nature Reserve comes alive with bees, dragonflies, and 21 species of butterfly.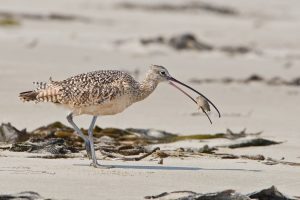 In autumn witness the spectacle of massive flocks of knot all moving in unison, known as murmurations at Morecambe and Hest Bank. Winter Oystercatchers meet in large numbers during winter. See them on groynes, jetties and piers as the tide rises.
https://www.rspb.org.uk/reserves-and-events/reserves-a-z/hest-bank-morecambe-bay/
Foulshaw Moss : Lowland raised mires like Foulshaw Moss near Witherslack are one of Western Europe's rarest and most threatened habitats. Around 94% of this unique habitat has been destroyed or damaged in the UK, so these remaining areas are incredibly important for a range of wildlife.
Water-loving sphagnum mosses, carnivorous sundews, cranberry and bog-rosemary are just some of the plants that thrive here, creating a living carpet of colour that's interspersed with the soft white heads of cottongrass in early summer.
These mossy hummocks and pools provide essential nesting and feeding ground for wetland birds such as moorhen, snipe and the elusive water rail, whilst birds of prey including hobby, sparrowhawk, buzzard and peregrine take advantage of the abundance of prey.
Foulshaw Moss is an incredibly peaceful nature reserve that offers something special for all wildlife enthusiasts.
Although the landscape is challenging, boardwalk makes visiting easy-going, with routes leading through peaty pools or out onto the open moss where many different butterflies, moths and insects are found.
A pair of ospreys breed here in the summer – enjoy the sight of these majestic birds of prey from the viewing platform as they soar above the moss
Spring– Green hairstreak butterflies fly in May, tree pipits and stonechats display over the bog, warblers and cuckoos sing in the woodland, ospreys return from Africa.
Summer-Huge numbers of dragonflies including the rare White faced darter dragonfly, large heath butterflies, lizards, adders & nesting ospreys.
Autumn– Heather flowering purple, migrating birds include ospreys passing through in September, red deer rutting.
Winter – Both marsh harrier and hen harrier visit the site, large numbers of snipe and teal arrive, and red deer can be seen from the raised platform.
Foulshaw Moss is run by Cumbria Wildlife Trust.
Witherslack
Cumbria
LA11 6SN
Grid reference SD 458 837
https://www.cumbriawildlifetrust.org.uk/nature-reserves/foulshaw-moss
5. Eycott Hill Nature Reserve: also run by Cumbria Wildlife Trust. It's a peaceful upland area full of dragonflies and butterflies, and birds of prey. Open all year round
Montane flowers including mountain pansy and mountain everlasting can be seen across the fell and a colourful display of summer wildflowers brighten the hay meadow. Breeding birds include curlew, snipe, meadow pipit, skylark and wheatear.
March: the white flowers of wood anemone will start to appear, and look out for the wheatears as these handsome birds arrive from Africa for the summer.
May: several interesting wildflowers come in to bloom including the eye catching mountain pansy. The delicate flowers of common butterwort also come out at this time and you may see some of the earlier emerging dragonflies, including four-spotted chasers and large red damselflies.
June: another species that thrives in the uplands, mountain everlasting, comes in to flower and on sunnier days you should encounter good numbers of small pearl-bordered fritillary butterflies.
July to October: grass-of-parnassus and devil's bit scabious are in flower and two of our larger dragonflies, common hawker and golden-ringed dragonfly can be found.
Near Berrier, Penrith, CA11 0XD
Grid reference NY 394 301
https://www.cumbriawildlifetrust.org.uk/nature-reserves/eycott-hill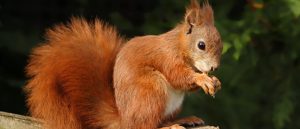 And finally, what about the red squirrel?
https://www.cumbriawildlifetrust.org.uk/about/what-we-do/living-landscapes/wildlife-conservation-projects/red-squirrels-project