Getting around the Lake District and see more and drive less
How to get around the Lake District to see the mountains, lakes, wide open countryside, stunning scenery as well as festivals, wonderful food, museums, outdoor activities, shops, tours and various other ways to relax.
By car
The nearest motorway junction is junction 36 of the M6. from this junction we are about 30 minutes.
Two hazards if you're using Sat Nav
After you leave the M6 you'll travel along a dual carriageway for about 20 minutes. At the roundabout stay on the A591 and ignore any instruction your Sat Nav may say to turn left along a B road toward Bowness and the ferry.
If you're travelling from the South East or indeed anywhere that requires you to use the motorways on a Friday especially late afternoon- please add at least one hour to whatever your sat nav says. From London, from experience of how long it takes our guests- add 2 hours (Please note we will charge £25 if you arrive after 21-30)
With the spiralling cost for petrol and diesel these days would it be nice to see just how much your journey would cost to get to Windermere? Well Go-Compare have this rather nifty fuel cost calculator, I believe it is always up to date with the current fuel prices, give it a go!
Train links to the Lakes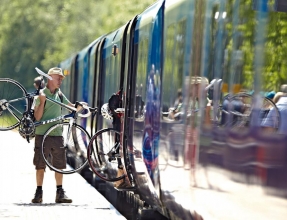 Why sit in traffic jams and delays on the motorway when there are alternative ways to travel that gives the car a rest.
Excellent train links
to the Lakes- London, Cardiff and Bristol: 3 hours, Manchester; 1.5 hours, Newcastle and Glasgow 2 hours.
Alternatively why not use the Trainline App – Europe's leading train and coach app. They work with 270 rail and coach companies to offer their customers travel to thousands of destinations in and across 45 countries in Europe.
If you want to hire a car collect a car from either Oxenholme and Windermere railway station through Co Wheels who we've teamed up with.
Co-wheels car hire in Cumbria
Co-wheels is a car club that helps you to get around Cumbria & the Lake District as easy and stress-free as possible. Co-wheels has a fleet of brand new Toyota Yaris hybrid cars parked directly outside Windermere and Oxenholme train stations. After joining the club and booking a car online, you simply pay a per-hour or per-day fee + a small mileage charge. Insurance and fuel are included!
Flexible car hire, from 30 mins to days at a time.
Simple – Insurance and fuel are included. No deposit or hidden fees.
Convenient pick up from train stations at any time of the day or night.
Greener travel option, with high spec, low emission cars.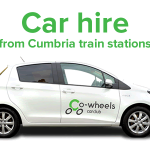 Find out more, and claim £5 free driving credit contact Hilton at 1 Park Road to get special discount code at co-wheels in the Lake District
See More, Drive Less
Cumbria Tourism have devised booklets and a variety of networks to get around the Lakes. Electric bikes, bike hire or travel on boat, bus – bike on the boat and so on.
There is an electric bike network with over 40 hire points around the Lakes. www.electricbicyclenetwork.com
Travel by bus
Travel by bus could not be easier with a variety of tickets that allow you to take your bike on the bus or the boat. Have an all day rider ticket or an explorer ticket or packages that include visiting museums or castles. Just by the Windermere railway station there is a bike hire for the day.
……..
So leave you car at home or in our car park and enjoy the fresh air.