There are numerous Summer events in The Lakes ranging from exhibitions, outdoor challenges, festivals, music, theatre as well as the memorable landscape of the Lake District.
In Search of Mary Shelley; the Girl who Wrote Frankenstein– an exhibition from May to August at Dove Cottage in Grasmere coincides with the bicentenary of the publication of Frankenstein by Mary Shelley and explores the circumstances that shaped Shelley as a child and a young woman and the making of the girl who wrote Frankenstein.
Theatre on The Lake in Keswick and its summer stages a spectacular selection of home-grown productions, including vintage comedy, an adaptation of a much-loved novel and an acclaimed double bill from one of Britain's finest playwrights.
Lakes International Summer Music Festival that is a long-standing international music festival that occurs in early August of classical, jazz and opera, hosting over 40 events in splendid intimate venues from Kendal to Ambleside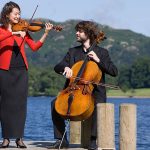 Highlights includes Lakes Alive a major family-friendly arts festival taking over Kendal for a weekend in September 2018.
Lakes International Comic Arts Festival in October that is the only event of its kind in the UK celebrating the best comic art from around the world with workshops masterclasses, exhibition and live draws
Or check out various trail runs ranging from 5k to marathons and ultra distances over the summer months
All are within each reach either by car train or bus from 1 Park Road our bed and breakfast in The Lake District