The cultural life of the Lake District
Food, music, artists, gardens, festivals the natural landscape and much more inspires and influences the spiritual and cultural of life of The Lake District. These are all within easy reach of our bed and breakfast in The Lake District. Our recent blog highlights Summer Events in the Lakes one or two events that we think will appeal to you?
Great culinary experience
We are blessed with some wonderfully talented chefs, appealing restaurants and independent but classic coffee shops not only in Windermere but not too far beyond. To name but a few- just in Windermere we have the award winning cafe Homeground with interesting lunch and they do know their coffee.
In Bowness- just been to Graze– amazing: so small you may not see it. It's next to Lakeland Leathers but everything home made with three or four choices of chocolate just for hot chocolate!
An excellent restaurant we would recommend in Windermere- 5 minutes walk from 1 Park Road- is Francines serving modern British cuisine. If you like fish try their fish casserole but they do great game dishes: great food and Graham is a wonderfully talented chef- worth a visit.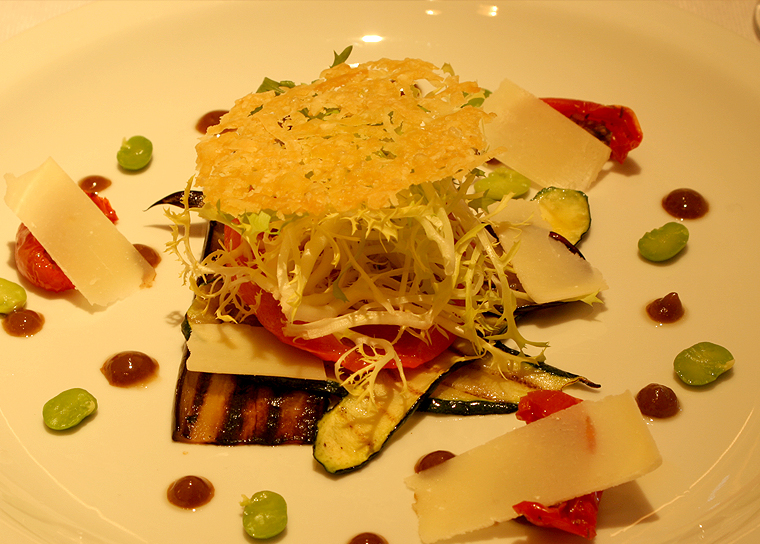 If you want to go up market try the Lake Road Kitchen in Ambleside (closed Monday and Tuesday) whose chef and owner- James Cross- trained at Norma. We had one guest who came up for one night from London just to go to this restaurant. Mary's favourite is Gilpin Lodge just outside Windermere but you have to book in advance but check out their amazing Hirish restaurant that is a fusion of British and Asian food.
There are award winning pub restaurants or gastro pubs such as The Wheatsheaf in Brigsteer – about 20 minutes from here- or The Punch Bowl at Crossthwaite.
Craft, real beer, wine, cocktails and whisky
In Windermere the place to go is TheCrafty Baa that is in an old terrace house- over 100 different bottled beers from around the world and great platters and chacuteries
Cumbria has about 43 microbreweries and the nearest being The Watermill (one of our local walks takes you over fields to The Watermill ) or in Windermere, a wine/tapas bar such as El Porton or The Bodega Bar in Bowness that have some interesting cocktails.
Further afield travel by train to Staveley have a beer tour at the Hawshead Brewery and then enjoy their beers with some tapas. Up in the north of the Lakes, The Lakes Distillery is on the shores of Bassenthwaite where you can taste their whiskey, vodka or gin. You will need a car to get to the distillery but we have various offers that could tempt you to make the journey- such as for their tours and purchase of their gifts
Gardens- some not as well know as others!
Some would say the Lake District is one big garden but we do have a few smaller ones that are easily accessible from 1 Park Road!
Levens Hall and Holker Hall are famous for their gardens and have various festivals through out the year. In Ambleside, about 10 km from 1 Park Road is Stagshaw Garden a quiet peaceful place to sit and admire the views.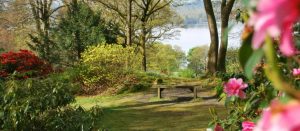 It was created by Cubby Acland with a collection of rhododendrons, camellias and azaleas, and more than 300 shrubs set among the large native oak trees, and carpets of native daffodils and bluebells in the spring. Look out for the Painters' Palette as you wander. Here Cubby Acland a local land agent, planted an array of different camellias to represent an artist's palette, complete with a small thumb hole!
The number of exhibitions, galleries and museums reflect the rich vein of talent and history we have. One of our favourite is Abbots Hall that is linked to Blackwell. Abbots Hall, in Kendal, is about 10 km from here but can be got to easily by train- and always have some national exhibitions. More local, Blackwell- about 10 minutes drive- is an arts and craft house with an interesting history and architecture to throw in as well!
Or the award winning Museum of Lakeland Life and Industry close to Abbot Hall, the Lakeland Motor Museum that you can access via taking a cruise on Lake Windermere and numerous National Trust or English Heritage places such as the Beatrix Potter Gallery, Wordsworth House and Gardens, Sizergh Castle, Furness Abbey and several Roman Forts
There are numerous exhibitions, theatre, concerts, film festivals, rock festivals.
Or our many festivals- music (classical, rock and folk), comic, chilli, country, mountain, film or literary festivals. You name we have it!