Lake District landscapes that inspire millions of people to visit the area each year. Many a well known writer or climber. We do have a few well known writers- Wordsworth, John Ruskin, Beatrix Potter and Alfred Wainwright to name but four- but we could name more: George Romney, Melvin Bragg or Arthur Ransom and then the ultimate Lake District reading list novels that takes the Lake District as their settings for crime,murder and romance.
Places to learn more about William Wordsworth, the 19th century Romantic poet, would be to visit Dove Cottage in Grasmere where he lived. The Wordsworth Museum always has an exhibition on but you can also tour Dove Cottage and hear about life in the 19th Century in the Lake District and understand how the landxcape inspired the poetry of Wordsworth or you can visit Rydale House- another place he lived- and see the beautiful gardens. Both are easily accessible by a local bus from Windermere Railway Station.
A great day trip would be to take the car ferry and visit Hill Top- where Beatrix Potter lived- on to Hawshead for lunch and then continue to Coniston and visit Brantwood, the home of John Ruskin who, inspired by the local surroundings, came to live at Brantwood. He was a hugely influential poet, artist and philosopher who influenced the Pre-Raphaelites artists such as Edward Burne-Jones and William Morris.
Just behind Windermere is Orrest Head- a small hill overlooking Lake Windermere. One of the walks and guides we publish for guests staying at 1 Park Road takes you on various routes around and up Orrest Head.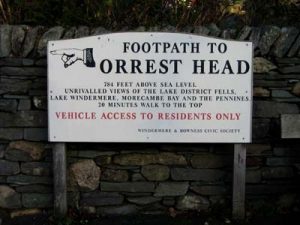 ORREST HEAD FROM THE TOP
From the top of Orrest Head is where Alfred Wainwright fell in love with the Lakes and went on to write numerous memorable walking guides. He said of his experience of walking up Orrest Head, "there were rich woodlands, emerald pastures and the shimmering water of the lake below"
Alternatively, you could walk up Post Knott and have a 360 degree view of Windermere Lake and the Langlade fells in the distance and be inspired by the landscape.
POST KNOTT FROM ATOP
---