Keep calm and enjoy the rain
If it's raining in the Lake District – and it does rain a bit but then we wouldn't have the Lakes or the lush green landscape-but not as much as people think. It's poured yesterday but as I write this it's a glorious autumn day- blue skies, snow on the peaks.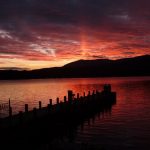 What are the five things to do if it's raining in the Lake District?
1. Just slob around here at 1 Park Road maybe pop out for coffee such as Home Ground or lunch then in the afternoon just relax. Or book in advance some health spa treatments at The Waterfall Health Spa, in Ambleside, and get 10% off all your treatments as your staying at 1 Park Road. In the evening sit by a log fire in the Crafty Baa in Windermere and enjoy their tapas and one or two of their 80-90 bottled beers
2. There is a great independent cinema in Bowness- the Royality Cinema– showing the latest films in the afternoon and the evening or go to Ambleside and see a film at Zeferellis and then dine at their vegetarian restaurant or listen to some live jazz.
3. Get the train to the market town of Kendal with its museums, shops and ruined castle- where the Parr family lived and whose daughter- Katherine Parr- was Henry VIII's last wife and of course, Kendal is the home to Kendal Mint cake.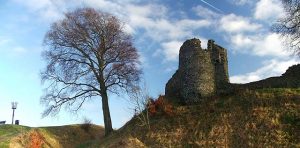 Kendal is a fascinating town to wander around- if it stops raining: walk up behind the town and it feels like a Cornish fishing port with its narrow cobbled streets and then the yards" that run down to the river from the main street and would in times past had dying factories, weaving shops and even a windmill. They are all numbered but have names such as Smokehouse yard, Redmaynes Yard, Tanners Yard: or go up to the house where John Cunliffe lived- author of children's book Post Man Pat – with a great local community pub next door called the Rifleman's Arms that has a folk evenings every Thursday: or walk by the side of the fast flowing river- the River Kent- to the Abbots Hall Museum and the Museum of Lakeland Life.
4. There is an excellent bus service: buy a day ticket and travel up to Ambleside, then on to Grasmere and have a tour of Dove Cottage where Wordsworth lived and onto Keswick- driving through some dramatic mountainous countryside.
5. Or take in a museum or two that are not the obvious: visit either the Car Museum or the Bobbin Mill at Newby Bridge and see the history of making millions of bobbins for the Lancashire spinning and weaving industry, or the Dock Museum in Barrow or Pencil Museum in Keswick- all accessible by bus or boat.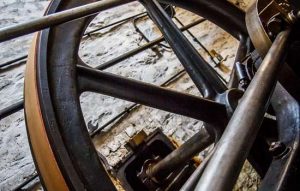 Alternatively drive over the Ulverston and go the Laurel and Hardy Musuem– Ulverstone was where Stan Laurel was born; or take the train to Staveley and go on a tour of the Hawkshead Brewery