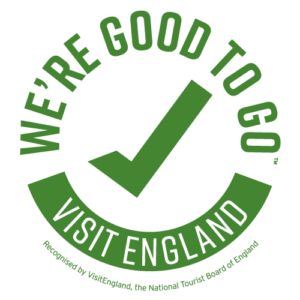 COVID-19 Safety
The health and safety of our guests and ourselves is our highest priority.
We re-open from Saturday 4th July 2020. Bookings are now being taken online or you can call us on 015394 42107 or email [email protected]
Please take a moment to note how we are providing a safe environment for you, our guests at 1 Park Road Bed and Breakfast.
All Covid-19 policies are based on current UK government guidelines and are being constantly reviewed based on the latest advice. Please refer back to this page on a regular basis for any additional information.
COVID-19 STATEMENT
With regards to Covid-19 we will strive, at all times, to take the best and appropriate measures to reduce the risk from Covid-19 for our guests and ourselves.
To do this, a Risk Assessment has been completed that both identifies the possible risks. This then produces the controls needed to reduce the risk.
The result of this Risk Assessment is that we have implemented procedures to reduce the risk of infection and demonstrate to our guests that we offer a safe environment for all.
These include:
By ensuring that in our business, our guests and our safety will always take priority.
Ensuring that cleaning and sanitising is carried out on a regular basis in all areas of the house.
Posters/reminders of Social Distancing and hand sanitisation/washing within the premises.
Yellow and black tape on the floors to ensure social distancing measures are met.
The availability of hand sanitiser in public areas.
Maintaining social distancing by reducing contact with guests as much as possible.
By ensuring the latest up to date information/guidance on Covid-19 from the UK Government is made readily available to guests in the form of pre arrival correspondence with the latest information and guidance.
11 STEPS TO SAFETY
We are committed to delivering a clean and safe environment for you and have created a 10-step safety and hygiene protocol to ensure our home is as clean and safe as possible.
New cleaning and disinfection procedures have been introduced.
These steps describe specific processes and measures that are designed to make you feel confident when you visit us.
Social distancing, arrival & departures
We have implemented social distancing measures where possible and will ask all guests to comply during their stay. We will try to manage the transmission risk by staggering arrival and departure times.
Increase cleaning and disinfecting
We have increased cleaning and disinfecting frequency throughout the house, paying attention to high-touch items.
Hand Sanitisation
Hand sanitiser will be made available at the entrance to the breakfast room. Please use the lotion before entering the room.
Checking In
Upon arrival, we will explain how we will operate during your stay. An express check-in service will be the norm. Normal health and safety (fire alarms breakfast times etc.) procedures will be explained.
5. During your stay
Social distancing as well as frequent washing of hands must be exercised while here. If you have any questions, please feel free to ask.
Linen
All breakfast room and bed linen is sent out to our local laundry to be professionally cleaned.
Bedroom Cleaning
We deep clean each room after each stay.
During your stay all touch surfaces, bedding and seating will be cleaned with sanitisation products as per Government guidelines.
Breakfast Room
We are spacing tables apart to provide social distancing. A table service only with no breakfast buffet will be offered.
Food Safety
We will adhere to the strict safety procedures while serving all food and beverages.
Express check-out
Checkout will be by 11:00 AM on day of departure. As normal, please come to reception to say goodbye.
PPE
We will use personal protective equipment as and when required.
These are unusual times that we all live in. The way we have our holidays are very different now. All we ask is : have fun, enjoy your stay with us and be mindful of how we all interact with each other and be safe.