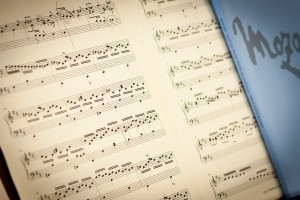 If music be the food of love…prepare for breakfast
Music is an important part of our lives here. As a trained classical pianist and conductor of many choirs, Philip's musical taste is wide ranging and eclectic, and both Philip and Mary try to share some of their music with their guests at breakfast time.
But how to make a choice? It's not a case of "it's Monday, it must be Mozart". What they play at breakfast, or if guests are eating here in the evening, ranges from jazz, to world music to electronic, folk or early 17th century Spanish music.
It's important to ring the changes. Everyone hates the same tune being played over and over when you're put on hold on the phone. Or when you hear the same background music every time in the doctor's waiting room.
Guests often ask what we're playing, and how can they find out more. And there are occasionally those who don't want any background music at all. But we keep it low and unobtrusive. For most guests it's part of the relaxing holiday experience.
Some examples of their music for breakfast in the Lake District
London Grammar latest album

The most recent added is London Grammar's Truth is a Beautiful Thing and her haunting voice and very simple but well written music.

Theme music from The Hours (which starred Meryl Streep and Nicole Kidman) composed by Philip Glass:- layered melodies, repeated ideas that slowly change and evolve
Hymns of the 49th Parallel is a Canadian song book sung by k. d. lang. Artists include Neil Young, Cohen and Joni Mitchell: k. d. lang's voice is very poignant as you enjoy our creamy scrambled egg!
One of our favourites is the film composer- John Barry and his last album The Beyondness of Things Very intense but soothing with a deepness that lulls people to sleep. His music is somewhere between Radio 3 and Classic FM
Electronic music is to me very clever and mesmerising. Two albums we often play are Space Only Noise, which is electronic minimalist recorded by the Dutch artist Nicolas Jaar and Patrick Hawes's Blue in Blue that is haunting, peaceful and very spiritual
Not a great lover of jazz but two albums we often play are by Joe Stilgoe's New Songs for Old Souls which captures the bygone time of big band and then there is another Dutch artist- Cara Emerald (or Cara Diamond as a friend of mine called her) and her album Deleted Scenes From The Cutting Room Floor with various dance styles such as mamba, rumba or swing
World music- I love the lilting rhythms. Talking Timbutu is a great African blues album featuring Ali Farka Toure, the artist from Malli and Ry Cooder.
And classical music…. I love L'Arpeggiata and Christina Pluhar. The album we play a lot is Los Impossibles that is music from 17th Spain but played in a very folk like style.
Finally a recent addition is Sad Necessary by the German folk reggae duo- Milky Chance and Alt-J's An Awesome Wave
What would YOU like to hear…..?