We offer Cycle Friendly Accommodation in the Lake District
Here in the Lake District we have some of the best cycling routes in the UK. From our renowned mountain biking routes to the easy road cycling that takes in some of the most stunning scenery. You can hire road and mountain bikes, go mountain biking some man made off road routes in Grizedale Forest or hire an electric bike.
If you are touring on your bike then we provide an excellent overnight stay with storage facilities for your bikes.
Hiring bikes
There are numerous places to hire road and mountain bikes such as the one adjacent to Windermere railway station who provide the bikes, routes and head gear.
Why not go for hiring an electric bike in Bowness and travel is style and relax as you go up a hill!
For the mountain bikers Grizedale Forest is the place to be that can easily be got to via the car ferry that goes across Lake Windermere
Electric bikes
In The Lakes we have an Electric Bike Network with over 40 hire bikes and charging points. What better way than seeing the Lakes and enjoying the simple pleasures of cycling. If you travel by train and produce your rail ticket you would get 20% off the hire of a bike!
Routes
Most hire companies provide routes. We have numerous cycling books that offer a varied number of routes in varied degrees of difficulty. Some you need a car to get to the start but others start from 1 Park Road. For example:-
you could leave the car at 1 Park Road and take the cross lakes shuttle service to explore a variety of routes on the far side of Windermere- taking in other lakes gwacme_middle_full_map
or go to Staveley- about 6 km from Winderemere- and potter around the many routes up hill and along lane maybe popping into Staveley Yard for a spot of lunch at one of the artisan food shops.
Two suggestions : one is to get the train to Kendal and then cycle to Arnside and the seaside or take the car down to Lindale and a great route through woods and quiet country lanes and taking in the estoury
Or use Go Lakes cycling guide for different routes both for road and mountain biking

1 Park Road offers....
We have made sure that our Guesthouse in Windermere is is an ideal location with 'cyclist friendly' facilities to keep your bikes safe and clean and for you to relax and re vitalise those legs after a hard days riding. Did we mention the 'cracking breakfast' to put fuel in the tank for the days riding that is in front of you?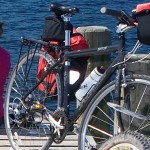 We have:-
Secure bike storage
Hose down facilities
Place to dry out gear
Early start breakfast (Out and about before the majority are)
Easy reach bike shops
At the end of your day riding you will find that we are positioned perfectly for a 'warm down stroll' to local pubs and you will find plenty of restaurants nearby.