Leave early and have brunch on arrival
Why not get an early morning train such as the 8-30 from Euston, the 8-20 from Birmingham, the 7-37 from Glasgow or the 8.24 from Newcastle and have brunch on arrival.
Alternatively travel by car making an early start safe in the knowledge that when you arrive- you've avoided traffic jams and congestion on our motorways.
You do need to book this in advance and it is served up 13-00 – £10 for two people but what better start to your break. Have brunch, a quick rest and then out walking along the shores of Lake Windermere in the afternoon or book to go to Oxleys Health Spa.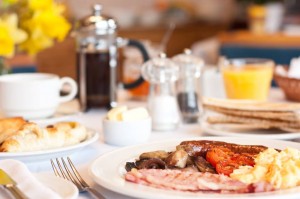 Brunch consist of a variety of options including English breakfast, fresh coffee or tea, fruit juice and range of fruit compote, or scrambled egg and smoked salmon ……….. or be adventurous and order a kedgeree, a Manx kipper, Eggs Benedict with home made minted hollandaise sauce or an Omelette Arnold Bennett!
Whatever you choose it will set you up for the day allowing you to make the most of your first day in the Lake District.